About the Program
Located in an urban hospital setting, VCU's Emergency Medicine Residency offers the opportunity to work alongside some of the brightest medical minds in the country.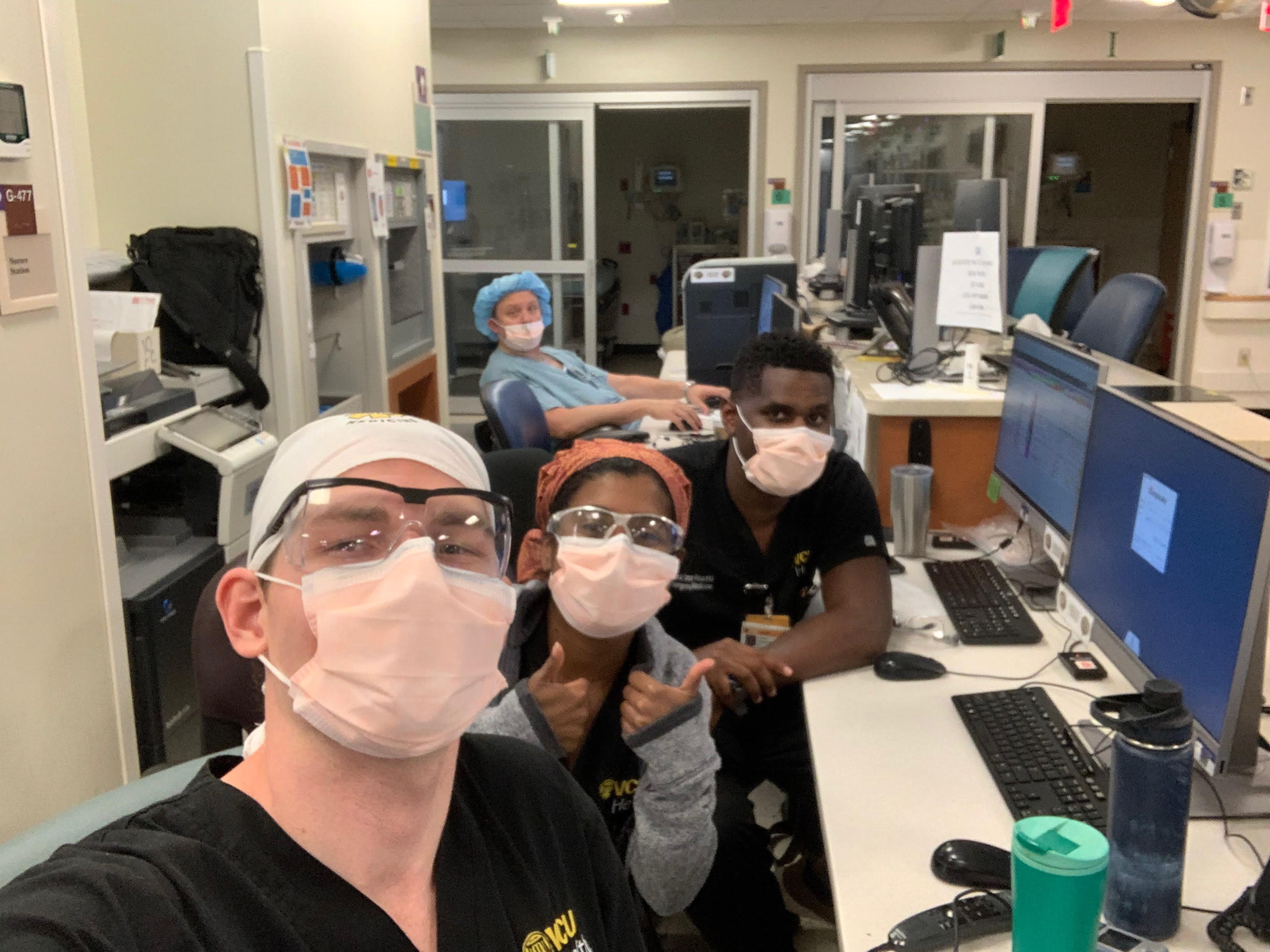 VCU Medical Center is home to Virginia's only Level 1 trauma center certified in adult, pediatric and burn care, which sees more than 100,000 patients each year. Residents develop resuscitation and critical care skills from training in the emergency department and rotating in multiple intensive care units. The program provides focused education in the multiple subspecialty areas of emergency medicibe.
Faculty and staff are readily available to help residents reach their full potential as physicians, and we seek to instill the highest professional standards so that graduates go on to provide top-quality and equitable care in hospitals across the country and advance the specialty of emergency medicine through scholarly activity and innovative research.
Virginia Commonwealth University Emergency Medicine Residency provides exceptional clinical training in an educational environment that supports and promotes inquiry, lifelong learning, scholarship, and equitable patient care. We aim to be leaders in educational innovation and provide learners with opportunities that allow individual development in many domains of emergency medicine. VCU Health and VCU EM provide care to a large number of underserved and vulnerable patients while promoting cutting edge discovery and patient care.
Program Aims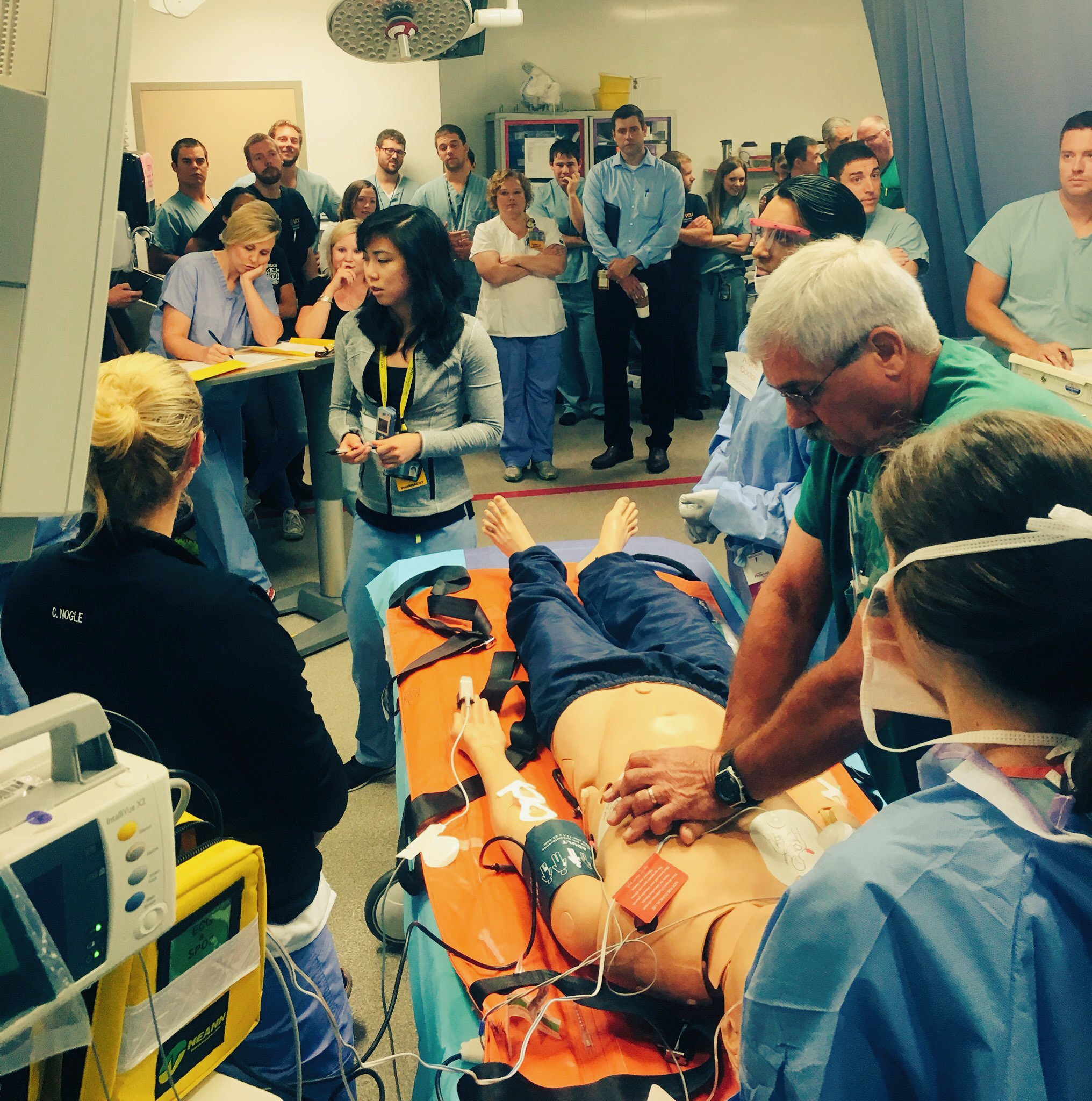 1. Recruitment and retainment of a diverse and inclusive residency in every sense
2. Graduate exceptionally well trained physicians in the clinical practice of emergency medicine
3. Provide exposure and education so residents are competent and comfortable to care for patients from a variety of backgrounds/demographics and from minor to complex life-threatening complaints
4. Develop and graduate residents who are lifelong learners in emergency medicine
5. Support residents in developing and pursuing individual goals in EM training relating to aspects of emergency care and domains of emergency medicine
Why VCU?
At VCU, residents get a unique, well-rounded experience in one of only five Level I trauma centers in the Commonwealth of Virginia. Here are just a few factors that make our program stand out among the rest:
Comprehensive training at a high-acuity academic medical center with a significant dedication to underserved populations
State-of-the-art clinical and educational methods and technology to deliver hands-on education along with individualized personal and professional development for each of our residents
Nationally renowned faculty members who are dedicated to teaching and training future leaders
A diverse, inclusive work environment with a focus on equity in emergency medicine
A family-like atmosphere that promotes wellness, resilience and community
Curriculum
Designed to maximize residents' proficiency and comfort in treating a broad spectrum of patients, our curriculum relies heavily on educational experiences within the emergency department (ED) and focused training in subspecialty areas.
Residents transition into first-year responsibilities through an orientation block that combines clinical shifts with a small group training sessions and workshops, plus certification in advanced cardiac life support, advanced trauma life support and pediatric advanced life support. Residents get hands-on experience with the local EMS systems and undergo training in ultrasonography and management of airways.
First-year residents work 18 10-hour shifts during each four-week block in the ED, and one to two shifts per rotation are in the pediatric emergency department to provide a longitudinal experience in addition to the block of dedicated pediatric emergency medicine.
Residents may take three weeks of vacation each year.
PGY-1 Rotations
| | |
| --- | --- |
| Introduction to Emergency Medicine | 4 weeks |
| | |
| Emergency Medicine | 19 weeks |
| | |
| Emergency Medicine Apprenticeship | 2 weeks |
| | |
| Obstetrics | 2 weeks |
| | |
| Pediatric Emergency Medicine | 4 weeks |
| | |
| Trauma | 4 weeks |
| | |
| Medical Respiratory Intensive Care Unit (ICU) | 4 weeks |
| | |
| Anesthesiology | 3 weeks |
| | |
| Emergency Orthopedic Procedures | 4 weeks |
| | |
| Ultrasound | 2 weeks |
| | |
| EMS | 1 week |
During the second year, residents manage airways for trauma resuscitations and care for the most severely ill and injured patients presenting to the ED and our ICUs.
PGY-2 Rotations
| | |
| --- | --- |
| Adult Emergency Medicine | 19 weeks |
| | |
| Pediatric Emergency Medicine | 4 weeks |
| | |
| VA Medical Center Emergency Medicine | 4 weeks |
| | |
| Community Emergency Medicine | 4 weeks |
| | |
| Cardiac ICU | 4 weeks |
| | |
| Cardiac Surgery ICU | 4 weeks |
| | |
| Surgical and Trauma ICU | 4 weeks |
| | |
| Clinical Decision Unit (Observation) | 2 weeks |
| | |
| Toxicology | 3 weeks |
| | |
| Advanced Ultrasound | 1 week |
| | |
| Elective | 2 weeks |
The third year serves to advance resident autonomy and emphasize independence as physicians and leaders. Senior residents assume responsibility for managing the ED by helping to direct patient flow, taking transfer calls, supervising the care of patients under the direct care of more junior residents, and assisting in teaching interns and medical students in the department.
PGY-3 Rotations
| | |
| --- | --- |
| Adult Emergency Medicine | 31 weeks |
| | |
| Emergency Medicine Teaching | 2 weeks |
| | |
| Pediatric Emergency Medicine | 5 weeks |
| | |
| Pediatric ICU | 2 weeks |
| | |
| Pediatric Anesthesiology | 1 week |
| | |
| Surgical and Trauma ICU Senior | 2 weeks |
| | |
| EMS | 2 weeks |
| | |
| Elective | 3 weeks |
| | |
| Advanced Ultrasound | 1 week |
Specialized Rotations
Residents get exposure to specialized areas of emergency medicine to enhance their ability to handle any scenario and to help them identify areas they may want to pursue for future study and development.
Residents get to expand their knowledge in toxicology through established curriculum, literature review, grand rounds, in-house consultations and the review of cases from the Virginia Poison Center.
Our program exposes residents to a multifaceted EMS system, ranging from mass casualty training to suiting up with the flight team. Our longitudinal curriculum begins during orientation, includes a week during first year, and completes with a two week capstone block in the final year of training.
Residents are not required to ride in flight or ground EMS, but those who are interested in the opportunity can learn more about the Critical Care Transport Network here.
As the home to a busy Level 1 trauma center and the only burn center in Virginia, VCU is an ideal setting for training in trauma care. Residents have ample opportunity to learn the skills necessary to manage trauma in all age groups, and trauma by all mechanisms.
Located within the ED, our 10 state of the art resuscitation bays are modular and designed to flex to double their capacity. Exam rooms are also equipped to function as overflow trauma areas to accommodate mass casualties or multiple trauma alerts in succession.
First-year residents participate in trauma resuscitations during their time in the ED and spend a dedicated month as part of the trauma team. During their second year, residents are responsible for securing all the trauma airways, and they assist in performing procedures such as central line placement and resuscitative thoracotomies. A month in the surgical trauma ICU develops confidence in the ongoing management of critically injured patients.
Senior third year residents continue securing trauma airways and assisting in procedures, and also spend two weeks supervising junior residents in the surgical trauma ICU.
VCU has a long history of pediatric emergency medicine (PEM), having featured a separate area for the emergency care of children for more than 25 years. Staffed by faculty trained in PEM, the pediatric ED operates 24/7 and features 17 patient beds, including clinical care and trauma rooms.
Read more about the Division of Pediatric Emergency Medicine.
VCU has implemented a longitudinal curriculum for teaching emergency ultrasound based on those endorsed by the American College of Emergency Physicians and the Society for Academic Emergency Medicine.
Residents gain experience in using ultrasound to diagnose hemothorax, pericardial effusion and hemoperitoneum in the context of trauma, plus transabdominal sonography and transvaginal ultrasonography among others. Our graduates perform on average over 500 ultrasounds during their training!
Longitudinal Tracks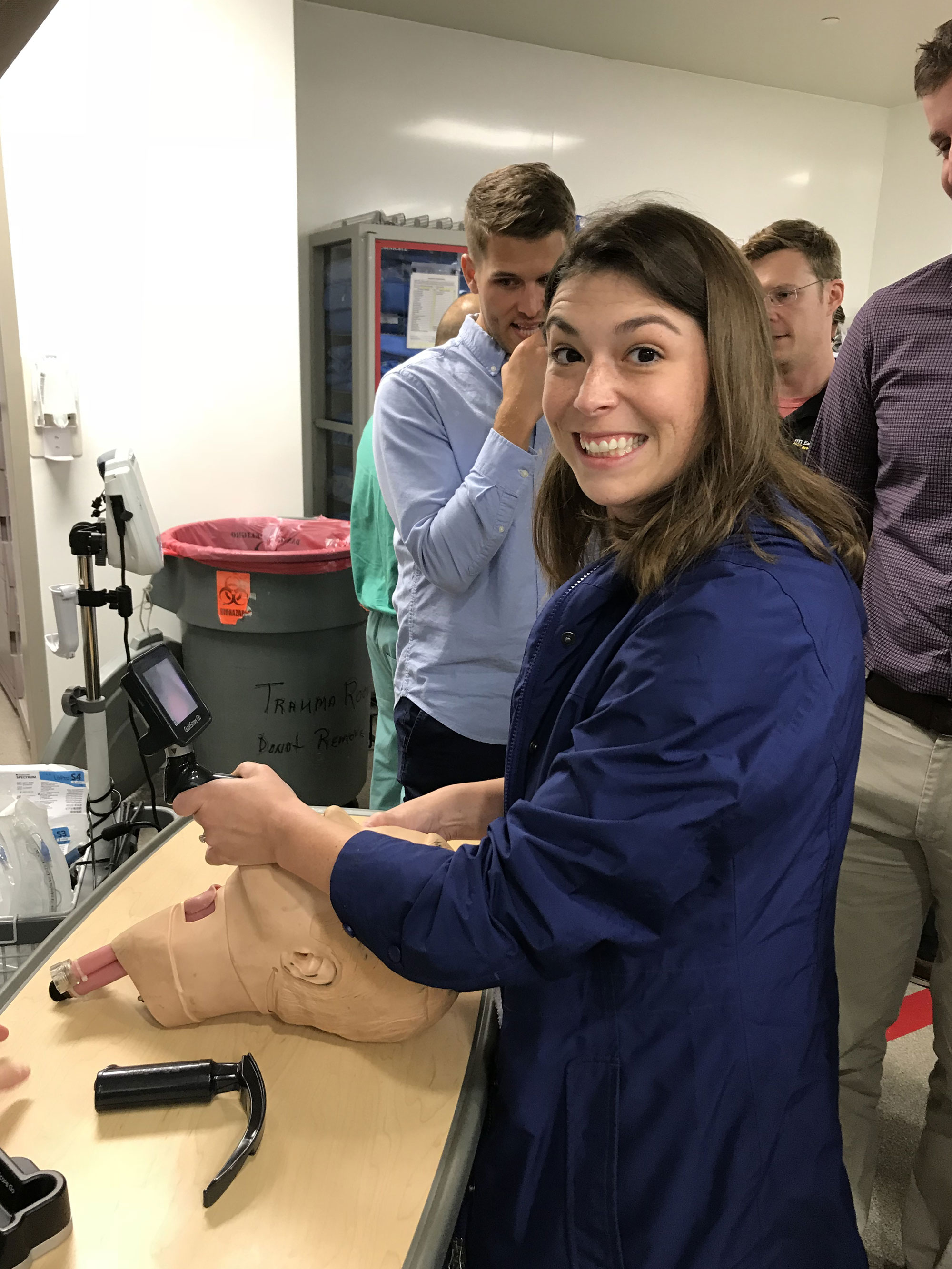 We provide our second- and third-year residents the optional opportunity to choose a longitudinal track for additional training in a niche within emergency medicine. Residents focus on one topic and follow a defined curriculum over the course of the academic year, with reduced shift requirements to contribute time toward this pursuit.
Residents may choose from a variety of tracks already available or assist us in the creation of a new track. Longitudinal tracks currently include:
Administration
Education
EMS
Evidence-based medicine
Global health
Pediatric emergency medicine
Psychiatric emergencies
Quality improvement
Research
Sports medicine
Toxicology
Ultrasound
Wilderness medicine
Didactics
Each week of the academic year includes five hours of educational activities, during which residents are excused from clinical duty. These educational opportunities include the following:
Conference design based on adult learning theory
Class-specific small group education, including a resident-led, longitudinal, evidence-based performance improvement curriculum
Grand rounds featuring national, regional and locally renowned speakers
Joint conferences with the Departments of Internal Medicine and Surgery
Two hours per conference day using small group learning or simulation, during which residents rotate through stations including oral boards, ultrasound, high-fidelity simulator cases and common procedure practice
Monthly journal clubs at local restaurants or faculty homes to discuss articles, often with faculty from other departments
Resident Life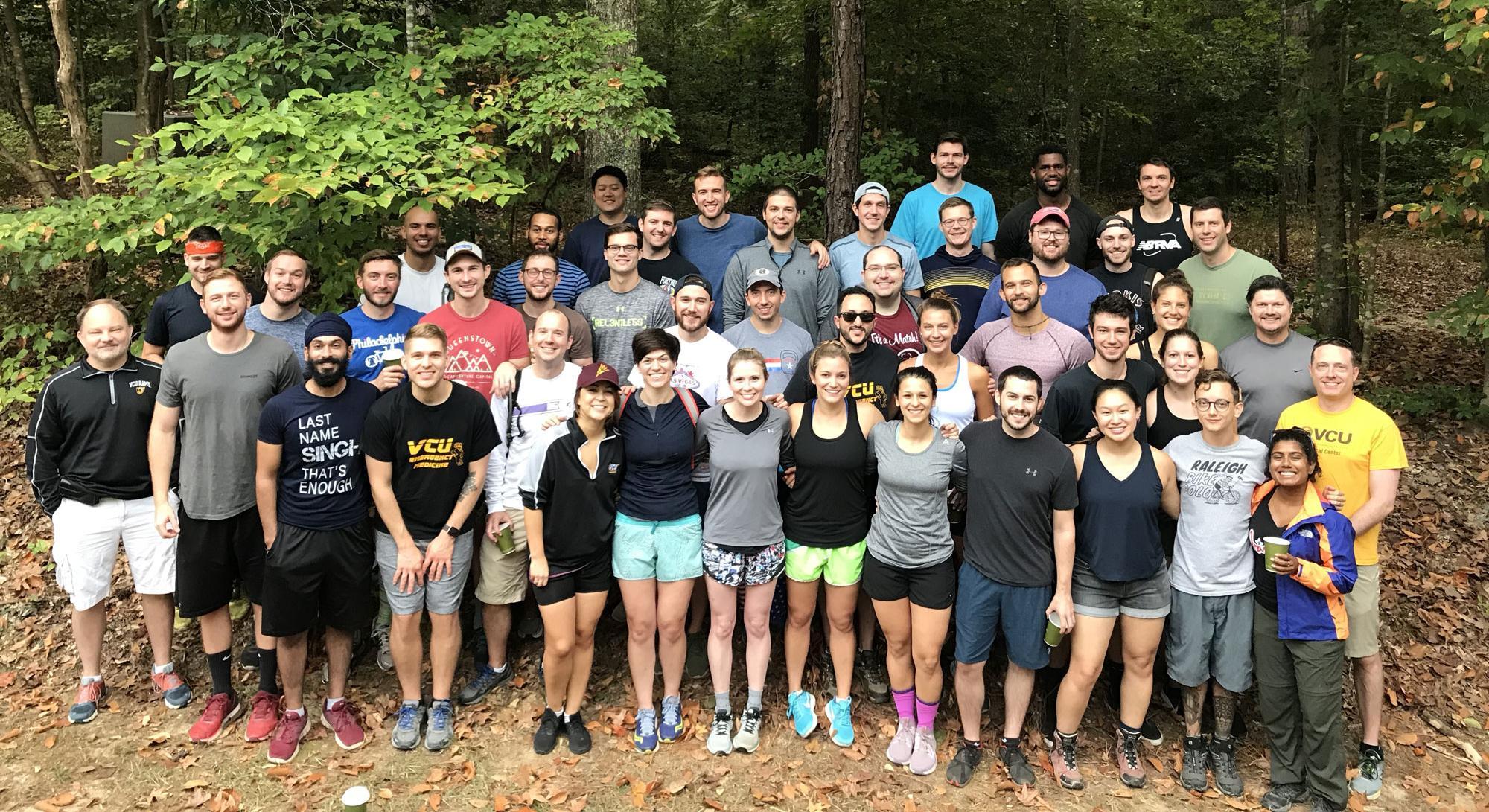 Residency is both exciting and challenging. Having graduated from medical school and chosen a specialty, residents are finally doctors, making crucial decisions that affect patients' lives every day. It is both an immense honor and a huge responsibility, and we do everything we can to help residents navigate the demanding landscape of emergency medicine.
Our program requires hard work, personal growth and career development, but it wouldn't be complete without activities outside of work that foster community, promote balance and prevent burnout.
Each year, emergency medicine residents participate in the following activities outside their clinical and academic duties:
An overnight retreat at a location chosen by our resident wellness committee
Weekly conferences and journal clubs where residents are able to interact with a variety of faculty
Challenge Discovery, a teambuilding and leadership development program that includes a high ropes course and other boundary-pushing activities
Multiple activities supported by residency combining education and wellness in emergency medicine
Life in Richmond
Urban life with a small-town feel
We encourage our students, residents and fellows to maintain a healthy work-life balance, and Richmond is a wonderful place to engage in that well-rounded lifestyle. As the capital of Virginia since 1779, Richmond attracts students, faculty and staff from around the globe. The city's location affords easy day trips to destinations like Washington, DC, Virginia Beach, Colonial Williamsburg and the Blue Ridge Mountains, among others.
As a mid-sized city with a metropolitan population of 1.3 million, Richmond provides stimulating activities while maintaining its intimate feel and unique vibe. Vibrant neighborhoods offer distinct, diverse experiences, with no shortage of art galleries, museums, music venues, restaurants, breweries and parks. For the outdoor enthusiast, you can't beat the offerings in the city's riverfront parks and urban wilderness areas such as white-water rafting, hiking, mountain biking and festivals.
Learn more about our community.
Salary and Benefits
VCU is proud to offer competitive salaries compared to housestaff across the Commonwealth of Virginia. Cost of living adjustments occur each year.
PGY-1: $57,593
PGY-2: $59,199
PGY-3: $61,330
We offer three weeks of paid vacation each year, with an additional time off at either Christmas or New Years.
Residents also receive expense accounts to cover the costs of educational materials and conference attendance:
PGY-1: $1,600
PGY-2: $2,400
PGY-3+: $2,600
In addition to Professional Expense Account Funds, residents are given:
ROSH Review
First Aid for Emergency Medicine
The Department of Emergency Medicine is committed to supporting residents presenting original work at regional and national scientific conferences when they exceed the scope of the professional expense account.
Residents receive membership fee coverage for the following organizations:
American College of Physicians
American College of Emergency Physicians
Emergency Medical Residents Association
Society of Academic Emergency Medicine
Virginia College of Emergency Physicians
We also provide subscriptions to the following publications, along with training tools to prepare for professional examinations:
Academic Emergency Medicine
Annals of Emergency Medicine
Residents are eligible for the following benefits:
Health insurance
A tax-free health expenditure account
Subsidized parking near the hospital
Subsidized memberships to on-campus athletic centers
Access to VCU's online library collections
A stipend to cover on-call meals at any VCU vendor
A copy of the board review textbook
VCU vests
VCU EM personalized scrub sets
Six hours tuition credit per semester for any VCU course
Daycare facilities for infants and children
Yearly in-training examination
Voice recognition software for chart dictation
Scribe use for senior resident shifts
How to Apply
We adhere to VCU's statement of nondiscrimination, equal opportunity and affirmative action, and welcome and encourage a diverse, inclusive residency program.
The VCU Department of Emergency Medicine participates in the National Resident Matching Program (NRMP), and prospective residents can apply using the Electronic Residency Application Service (ERAS) offered by the Association of American Medical Colleges.
Each year we accept 10 residents through the match, plus two residents from the Air Force. Air Force applicants may apply through the Medical Operational Data System, which is only accessible from computers on a military network. We also accept two residents annually for the combined Emergency Medicine and Internal Medicine (EM-IM) Residency. Learn more about our EM-IM program here.
Applicants must have a medical degree, acceptable medical examination scores and at least three letters of recommendation from physicians with personal knowledge of the applicant's clinical abilities and personal characteristics. A standard letter of evaluation (SLOE) is highly recommended, however due to the impact of COVID-19, we will not expect more than one SLOE this application cycle.
Additional application materials include:
Curriculum vitae (CV) with the applicant's e-mail address and phone number
Personal statement
Official medical school transcript
Test scores

USMLE (must pass – no minimum score)
COMLEX (if applicable)

Notarized copy of visa (if applicable – VCU can only sponsor J-1 clinical visas)
Letters of recommendation: A minimum of three, one preferably a

Standardized Letter of Evaluation

(SLOE) from an EM rotation.
EMERGENCY MEDICINE RESIDENCY
Emergency Medicine Residency