About
Quality emergency medical care doesn't start at the front door of the hospital — it starts with us.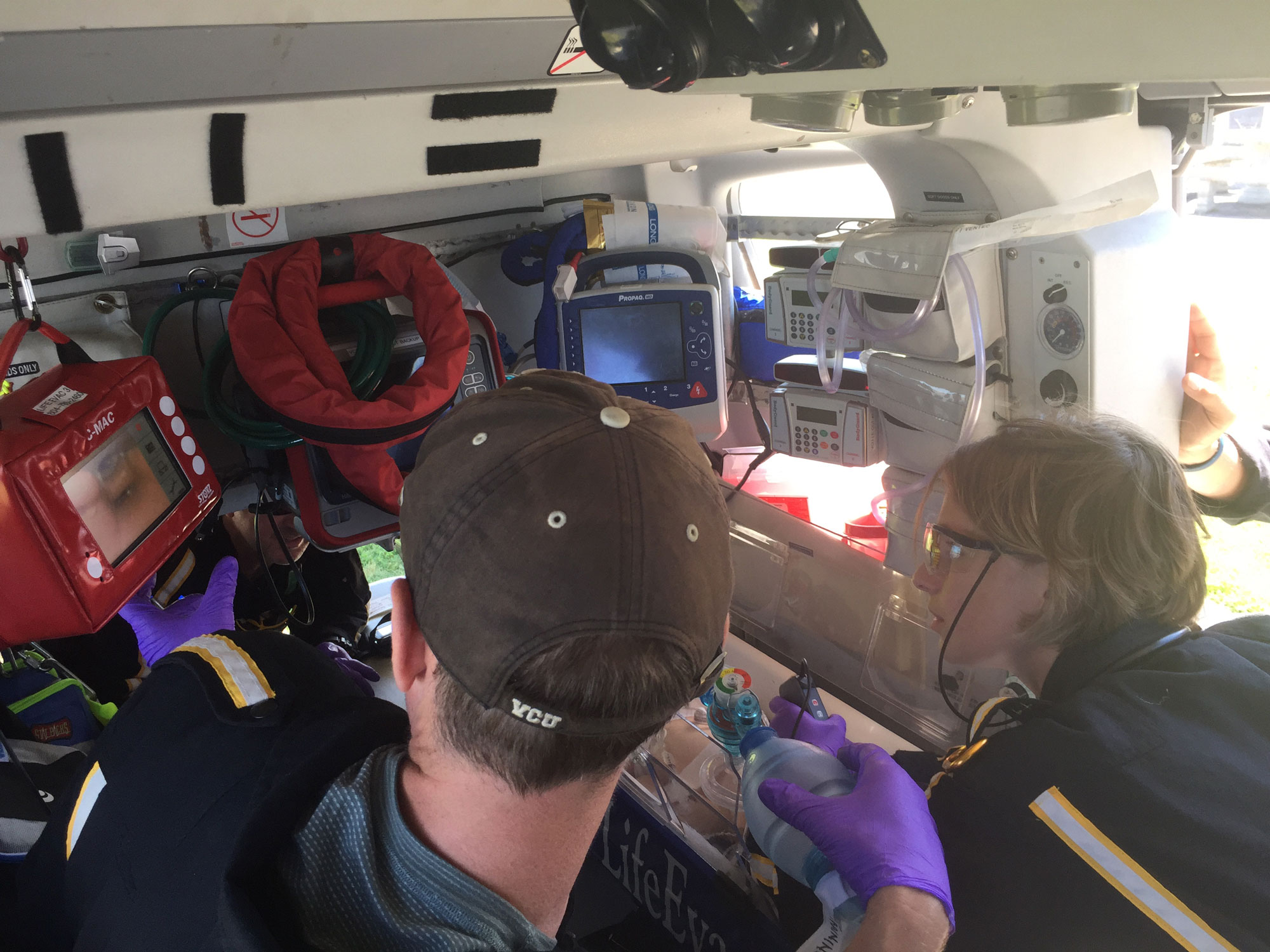 The Division of Emergency Medical Services (EMS) provides medical direction for first responder agencies in the Richmond area and comprehensive pre-hospital education for students, physicians and future leaders in the practice.
Faculty members within the division provide medical direction for the following agencies:
Chesterfield County Fire and EMS
Henrico County Division of Fire and EMS
James City County Fire Department and EMS
Richmond Ambulance Authority
Richmond Volunteer Rescue Squad
Virginia State Police Med-Flight
Mission
Our mission is to ensure that patients receive exceptional care and reach the hospital safely by implementing medical oversight of first responders, educating healthcare providers and conducting innovative research that advances the field of EMS.
EMS Fellowship
Created to produce leaders in the field of EMS, our one-year fellowship accredited by the Accreditation Council for Graduate Medical Education (ACGME) provides training in all aspects of pre-hospital and out-of-hospital emergency care.
Fellows perform an average of 50 clinical hours per month at VCU Medical Center and receive appointment as clinical instructors in the Department of Emergency Medicine.
Resident Rotations
Emergency medicine residents are exposed to a multifaceted EMS system, ranging from annual bioterrorism and mass casualty training to suiting up with the med-flight team. Our specialized residency rotation includes hands-on experience with the event medicine team, paramedic and fire rescue agencies and LifeEvac 1, one of VCU Health's medical helicopter bases.
During PGY-2 and PGY-3, residents with a special interest in EMS can participate in a longitudinal track, which reduces shift requirements and increases exposure to EMS education and experience.
Medical Students
The Department of Emergency Medicine offers a four-week clerkship for fourth-year medical students. The program includes a shift with the Richmond Ambulance Authority and student-directed education sessions based on their personal interests and career goals. Read more about the clerkship here. [link to EM clerkship page]
Medical students may also choose EMS as an elective rotation during their fourth year.
For more information about opportunities for students, email the department's clerkship director, Nathan Lewis, MD.
Research
The Division of EMS conducts innovative, groundbreaking research that advances the field and contributes to improved patient care. We encourage all attending physicians, fellows, residents and medical students to engage in research projects and submit their findings for peer review.
Read more about our research
Event Medicine
When you see VCU Health providers out in the community, they're usually from the Department of Emergency Medicine.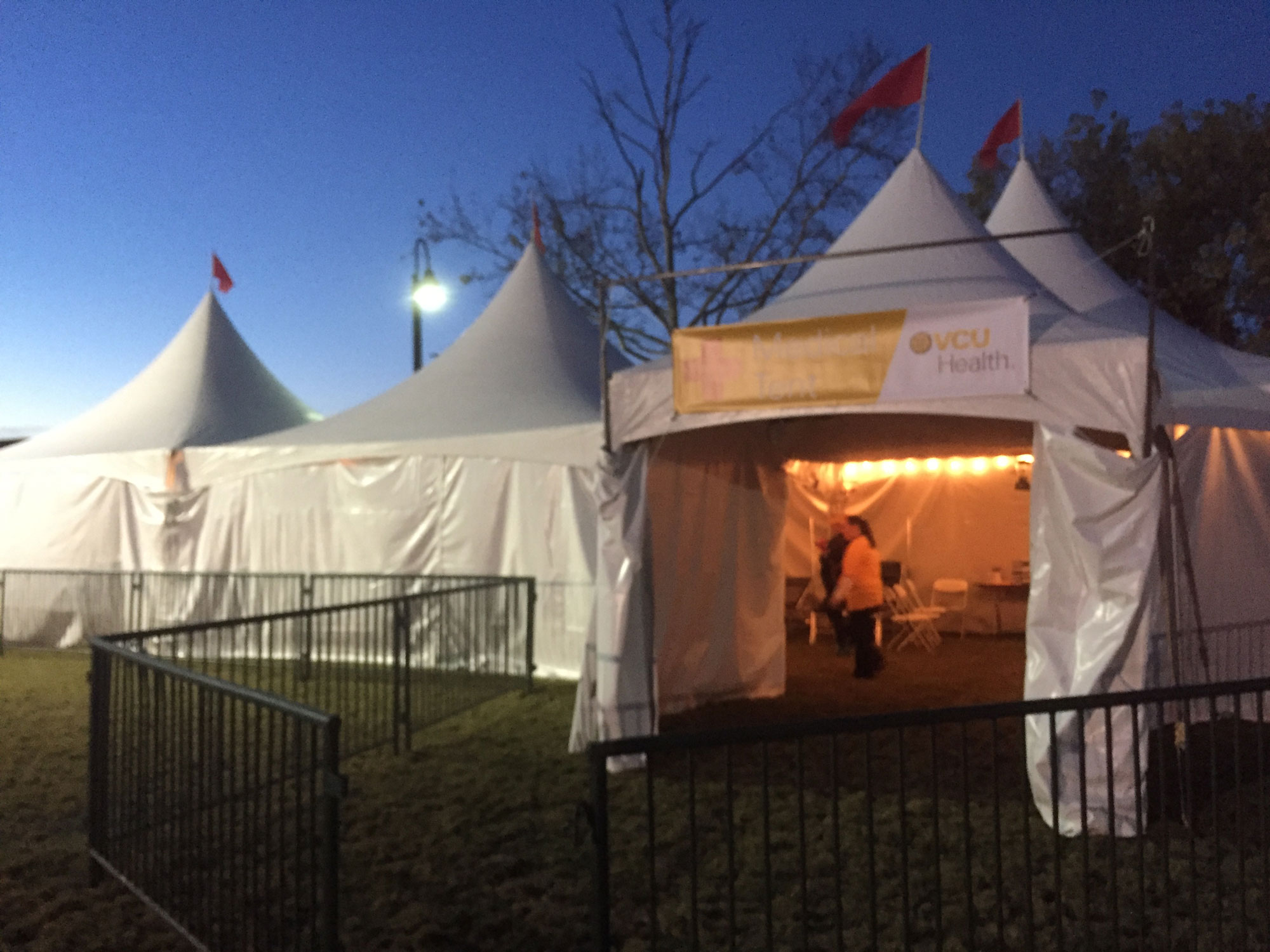 We provide on-site medical services for events like NASCAR races, professional golf tournaments, the annual cycling event Cap2Cap along the Virginia Capital Trail and the VCU Health Richmond Marathon.
With expertise far beyond basic first aid, our providers ensure the safety and care of participants at large events using rolling modular carts stocked with the diagnostic equipment, monitors, bandages and other tools necessary for comprehensive critical care.
Critical Care Transport Network
Not just transport. Treatment.
We also provide medical direction for the Critical Care Transport Network. Accredited by the Commission on Accreditation for Medical Transport Services, the network operates two air bases and transfers patients from accident scenes and other medical facilities to VCU Medical Center via helicopter and ground ambulance while providing advanced treatment en route.
Learn about the Critical Care Transport Network.