About
Welcome to the Division of Clinical Ultrasound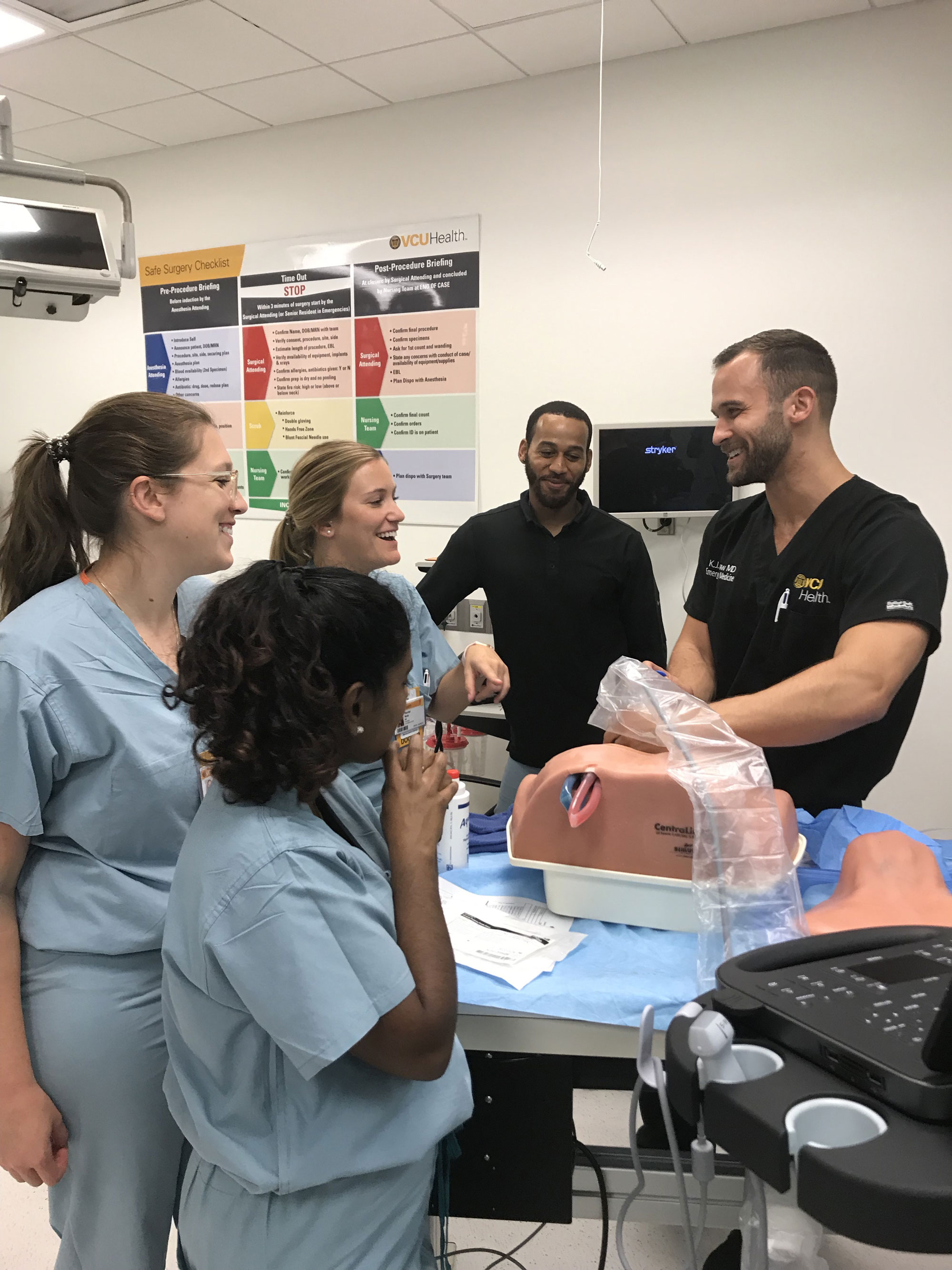 Our team of physicians specializing in point-of-care ultrasound bring innovation and diagnostic efficiency to VCU's Emergency Department. With eight state-of-the-art ultrasound machines distributed throughout the department, we're able to examine and diagnose patients in real time, drastically reducing lengthy wait times for results and treatment.
Since 2010, the section has grown from one provider and one piece of equipment to include seven full-time faculty members, eight ultrasound machines, a one-year fellowship and opportunities for medical students and residents.
Clinical ultrasound represents a new frontier of the physical exam, and our highly specialized clinicians are at the forefront of that innovative and exciting evolution.
Our Mission
Our mission is to serve the VCU Health System and educate medical professionals in using ultrasound technology to inform the bedside diagnosis and treatment of patients in the Emergency Department. In a unique, collaborative environment that spans multiple disciplines, we strive to recruit and train motivated emergency physicians to be experts in the field and practice of bedside ultrasonography.
Clerkship
First and second-year medical students learn about clinical ultrasound in the classroom, and third years get hands-on POCUS experience during an optional emergency medicine clerkship.

Medical students may also choose clinical ultrasound as an elective rotation during their fourth year, an opportunity that continues to grow in popularity.
Resident Rotations
During each of their three years at VCU, emergency medicine residents participate in an ultrasound rotation geared towards their specific training year that focuses on fundamental clinical ultrasonography.
During PGY-2 and PGY-3, residents with a special interest in clinical ultrasound can participate in a longitudinal track, which reduces shift requirements and increases exposure to advanced ultrasonography topics.
Fellowship
Designed to produce leaders in the field of clinical ultrasound, our one-year fellowship provides extensive training in advanced sonography. The program expands on the knowledge and skills developed during residency, with a specific focus on education, research and administration of a successful ultrasound program.
Fellows will have the option to sit for both the Registered Diagnostic Medical Sonographer and the Registered Diagnostic Cardiac Sonographer exams, and they'll have the option of receiving additional certifications.
Research
We encourage all attending physicians, fellows, residents and medical students to engage in cutting-edge research that ultimately improves patient care and contributes to the advancement of clinical ultrasonography as a practice.
Ongoing research projects within the division include the following
Comparing traditional landmark lumbar puncture technique to ultrasound-assisted lumbar puncture
Comparing flow variation across carotid artery to echo measured cardiac output after fluid challenge
Determining predictive value of optic sheath measurements for post-arrest patients
Training emergency medicine physicians to perform transesophageal echocardiography during cardiac arrest
Determining whether flight medics can reliably confirm endotracheal intubation placement via ultrasound
Ultrasound for evaluation of pediatric long bone fractures
Sonographic assessment of copperhead envenomation
Anderson DW, Vitto MJ, Evans DP.(2015). How does emergency medicine residency core faculty obtain their ultrasound training for credentialing? Am J Emerg Med. 2015 Aug 10. [Epub ahead of print] PMID: 26417861
Sparks S, Evans DP, Byars D. A low cost, high fidelity nerve block model. Critical Ultrasound Journal 2014 Aug 13;6(1):12. PMID: 25411589
Ferrada P, Evans D, Wolf L, et al. Findings of a randomized controlled trial using limited transthoracic echocardiogram (LTTE) as a hemodynamic monitoring tool in the trauma bay. J Trauma Acute Care Surg. 2014 Jan;76(1):31-8
Evans DP, Ferraioli G, Snelling J, et al. Volume Responsiveness in Critically Ill Patients. Journal of Ultrasound in Medicine. 2014 Jan; 33:3-7
Evans DP, Knapp B, Byars D, et al. Emergency medical services-focused assessment with sonography in trauma and cardiac ultrasound in cardiac arrest: The training phase. Academic Emergency Medicine. April 2012, Vol. 19, No. 4, Suppl. 1
Evans DP, Knorr M. Bedside ultrasound of acute adrenal hemorrhage. American Journal of Emergency Medicine. 2012 Nov;30(9):2088
0
point-of-care ultrasounds performed on a yearly basis
0
ultrasound faculty in the Department of Emergency Medicine
0
residents trained since inception of the program
0
TEEs performed per year